1.- Funda tubular
Varies depending on the material to be heated and the temperature of Use. See attached table where some of the most standard sheath materials, and the various methods of pipe diameters and lengths.
2.- Resistive Spiral
Alloy resistance wire Nickel chrome or other metals. Varies depending on the type of work that resistance is intended. The Resistive Spiral may be constituted by one, dos o tres hilos.
This element is the heat source.
3.- Granular insulator
Magnesium oxide electromelted the appropriate class of building thermal characteristics Santi Escoin. Once compacted by rolling or compression is achieved good Thermal Conductivity while the insulation is ensured Dielectric correct.
4.- Sealed
Protects against moisture penetration into the resistance.
Five types of sellados depending on class thermal constructive Santi Escoin:
– Sealed Watertight.
– Sealed extra Watertight.
– Sealed extra Watertight high temperature.
– Sealed transpirable.
– Sealed transpirable high temperature
5.- Output
In steel preniquelado, stainless steel AISI 303 o acero.
The internal output length determines the inactive zone of resistance.
6.- Borne connection
Different types of terminals for connection to the mains.
7.- Aislante borne
Ceramic feedthroughs or thermoplastic material to ensure isolation Dielectric between the output and Funda tubular.
PROGRAM COMPONENT MANUFACTURING TUBULARES BLINDADOS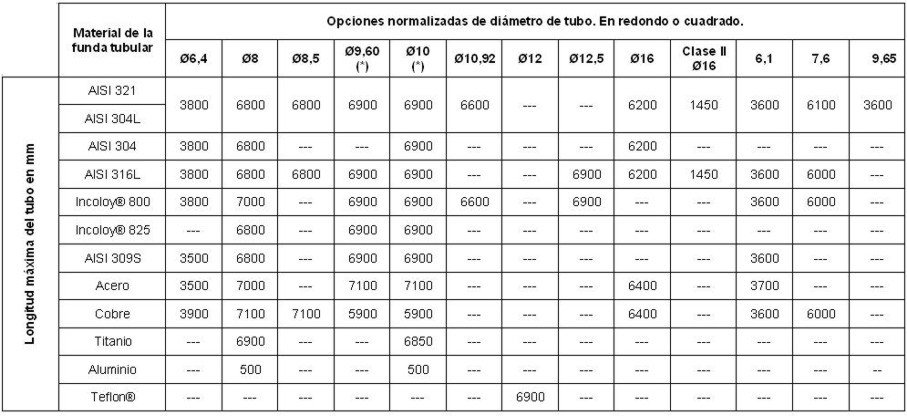 (*) Also in monotube to maximum length 1450 mm for all lengths.
Elements heating monotubo Class II. General specifications
Los heating elements monotubo Class II are intended primarily for use in household appliances (eg heated towel, electric radiators, etc.) that require protection than appliances for industrial use electric shocks.
• Diámetro tubo: Ø16 mm
• Material tubo:
AISI 304
–
AISI 321
– AISI 316L – Iy-800 – Iy-825
• Longitudes hasta 1590 mm for all lengths.
• Optionally,
Racial
welded
TIG
de
Thread
gas 1/2" – 1" – 1"1/4 in
stainless steel
o acero
Nickel
.
• Optionally, with
Thermostat
security
Automatic reset
y/o
Fuse
Resettable safety thermal NO.
STANDARDIZED PRODUCT
Santi Escoin understands that the requirements to market demand we, and the constant quest for total customer satisfaction, is vital to minimize the maximum term supply products, so we opted to expand our range daily articles, by standardizing and estocándolos, so that in a high percentage of cases to offer real solutions from our technical sales department immediately.
SPECIAL PERFORMANCES.
Some of the specialties of Santi Escoin SA, is to build any resistance either from a plane or a sample or make your own designs in response to specific needs. In these cases the delivery time:
CIRCUIT NORMAL – 21 working days.
URGENT CIRCUIT – 10 working days.
HOT CIRCUIT – 4 working days. (request specification sheet)
BUILDING DESIGN – 2 at 45 working days depending on complexity.